Find below important information in preparation for your visit to Tanzania and while in Tanzania. Click on a box to toggle open the content. See also resource information pages about SENE, climbs, safaris, eco-adventures, and Zanzibar. If you have any questions not answered here, please feel free to contact us. 
Before Arrival
Flying To/From Tanzania
Kilimanjaro International Airport
is Tanzania's gateway to Mount Kilimanjaro, the Serengeti, Ngorongoro Crater, and the other northern safari parks, as well as all SENE adventures.  You will also fly out of Kilimanjaro unless you end your Tanzania trip on Zanzibar, where you will want your departure directly out of the Zanzibar Airport or the Dar es Salaam International Airport, which serves Tanzania's capital city and a short hop from the island.
Major carriers that fly into Kilimanjaro are KLM, Ethiopian Airlines, Qatar Airways, and Turkish Airlines.  KLM offers the most convenient connections when flying from North America and most of Europe.
Flying through Nairobi offers more international flight options, but requires an additional 1-hour flight from Nairobi to Kilimanjaro on Kenya Airways or Tanzania's Precision Air.
Visa
A visa is required for entry into Tanzania.
  Visas can be obtained in advance at any Tanzanian embassy or may be purchased upon arrival at all international airports and border crossings in Tanzania ($100 for U.S. citizens, $50 for all others; USD cash only).  Passport must be valid for at least 6 months beyond your intended visit.
New as of December 2018!  Tanzania has implemented an online e-visa application system. It is so new that we cannot offer any tips and advice.  Please let us know if you use it and your experience online and upon arrival.  Thanks!
Immunizations
No immunizations are required to enter Tanzania
, except proof of yellow fever vaccination for those travelers entering Tanzania from a country that is yellow fever endemic.
We advise you consult with your physician or a travel health specialist about recommended immunizations prior to your vacation.  The U.S. Centers for Disease Control and the U.K. National Health Service websites include Tanzania-specific information.
Malaria is endemic to Tanzania at elevations below 1700m (5,500′).  Mbahe Village and all of Kilimanjaro National Park are above this elevation. No malaria immunization currently exists. Consult your physician or a travel health specialist to learn about malaria prophylaxes options. Insect repellant and long sleeves and trousers in the evening (when mosquitoes are most active) provide additional protection. All tourist accommodations within malarial zones will either have bed nets or be impenetrable tents.
Plastic Bags ban in Tanzania
As of June 2019: 
Tanzania bans all plastic bags
(except Ziploc-type bags).  Upon arrival customs officers may look for the bags in your luggage and collect them for disposal (you will not be fined nor arrested!).
We at SENE recommend you leave plastic bags at home and use reusable cotton or other material bags to hold items in your luggage.  If you use plastic bags to keep items dry or dust-free, replace them with durable waterproof camping bags (dry sacks).
About Tanzania
Climate
Tanzania is a tropical country in East Africa on the Indian Ocean. It is more than twice the size of California with a 2016 population of 55 million.
Tanzania lies a few degrees south of the equator, enjoying a moderate tropical climate with seasons regulated by rainfall rather than temperature. The coast, including the largest city Dar es Salaam and the islands of Zanzibar, are hot and humid with cooling breezes off the Indian Ocean. Inland Tanzania, which includes all the safari areas and Mount Kilimanjaro, is on the African plateau with base elevations ranging from 600-1200m above sea level.  This elevation moderates the heat so that days are warm and nights cool throughout the year.
Most regions of Tanzania experience two rainy seasons. The long rains last from mid-March through early June and the short rains from November through December. The long rains consist of regular periods of steady, soaking downpours and the short rains usually entail light morning or evening showers. Regional variations occur and even during the rainy seasons rarely a day goes by without some sunshine!
Tanzania's tourism high seasons correspond with the dry seasons from mid-June though October and the Christmas holiday period into March.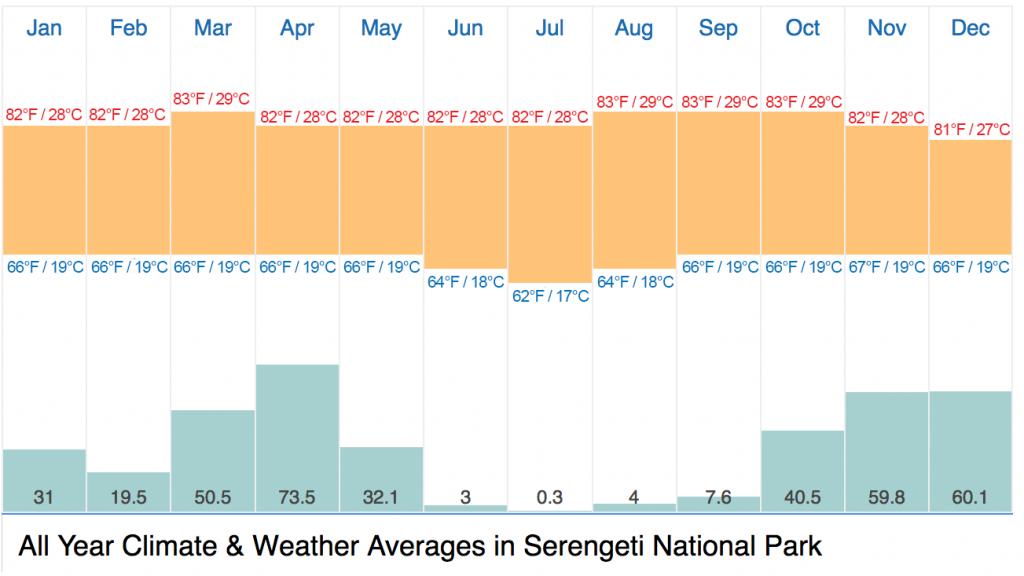 Currency & Credit Cards
The
Tanzania Shilling
(TZS) exchanges at approximately US $1=2250 TZS and €1=2600 TZS (October 2017). Tourism establishments accept both US dollars and Tanzanian shillings, but local shops and restaurants take only shillings.
ATMs are available in all large towns for withdrawing Tanzanian shillings from your home account; they generally offer the best exchange rate.  Currency exchange can be done at international airports, major hotels, local banks and bureau de change, found in all major cities.  Travelers checks are no longer accepted in Tanzania.
Credit cards are rarely accepted and may be used at only the large tourist hotels and bureau de change.  They incur a high fee.
Notify your bank and credit card company of your holiday vacation plans.
Phones & Internet
Tanzania has an extensive cellular phone network for voice and data, though coverage is unavailable on parts of Kilimanjaro and large swaths of the safari parks.  You will need international roaming or an unlocked phone with a Tanzania SIM card (available for purchase in Moshi, Arusha, and other large towns).
Wi-Fi is available in most hotels and lodges and some permanent tented camps.
SENE's Mbahe Farm cottages have limited internet access through a Wifi hotspot in the dining area (service not always available).
Culture
Languages
Swahili
and
English
are the two official national languages. Swahili is spoken by all Tanzanians and is what you will hear most often. English is used in secondary and higher education and in tourism.
There are also more than 120 tribal languages still spoken in Tanzania, primarily in villages.  These are what most children learn at home as their first language.  You may hear the Chagga language spoken around Mbahe Village on Kilimanjaro.
Photographic Respect
Always
ask permission
before taking photos of individuals or their private property.  Most people are happy to oblige.  In safari tourist areas, where you will see many Maasai dressed in traditional clothing, taking a photo is a commercial transaction, so make sure to negotiate a price in advance.
Taking photos of public spaces is fine, but it is forbidden to photograph military installations and highly unwise to photograph any government property (police stations, etc.) or industrial/technical facilities (cell phone towers, for example).  You may be subject to questioning and forced to delete your images.
Tipping guidelines
Tipping is expected after climbs, safaris, other guided services, and at tourism accommodations. Tanzanians are not shy about asking for things, so it is not uncommon for someone to directly request a tip. Still, the amount and timing of a tip is at your discretion, so feel free to decline if the situation is not right for you. Tips may be given in either USD or the TZS equivalent.
Check our tipping guidelines.
Health & Safety
Drinking Water
Do not drink water directly from taps in Tanzania
(and do not use tap water for brushing teeth).  Drink only bottled water, water that has been brought to a full rolling boil (for tea and coffee), or water filtered through a purifier (such as the Katadyn filter SENE uses).
Water served in pitchers at all tourist lodges and camps, and at our Mbahe Village cottages, has been purified and is safe to drink.  All beverages served in bottles (soda, beer, etc.) are safe to drink.
Food
All food –
both cooked and raw
– prepared at tourist lodges and camps, tourist restaurants, SENE's Mbahe cottages, and by SENE camp cooks is safe to eat.
Tanzania tourism providers prepare all food in a clean, hygienic manner. 
Avoid eating food sold by street vendors and raw food at non-tourist establishments.
Remember always to wash your hands or use hand sanitizer before eating.
Safety/Security
While frightening, robberies and attacks thankfully remain extremely rare in Tanzania, and the overwhelming majority of visitors enjoy their trips without incident. However, like anywhere in the world, crime exists in Tanzania. Tourists in any country are particularly susceptible because they may carry large amounts of cash and other valuable items, and are often unfamiliar with the local language, environment, and customs. We advise you to review the
United States' Department of State travel information page for Tanzania
for travel and security information.
Common sense and some basic precautions are the best protection against becoming a crime victim during your visit.
PRACTICAL ADVICE WHEN ON FOOT
• Whether in cities, towns, or villages be conscious of your surroundings at all times;
• Do not walk alone, especially in isolated areas, on beaches, or after dark;
• Do not carry cameras or large sums of cash or wear expensive-looking jewelry or watches;
• When a situation feels threatening, follow your instincts and leave the scene;
• In the unfortunate circumstance of encountering thieves demanding money and valuables, hand over what they ask for and avoid violent confrontation;
• If you are the victim of a crime, report it immediately to the police and/or park officials; contact SENE as we will provide any needed assistance.
PRACTICAL ADVICE IN OVERNIGHT ACCOMMODATIONS
• Use the hotel safe to store large amounts of cash and valuables;
• Never leave cash or valuables in your hotel room;
• Lock your door when you are not in your room;
• Lock your door when you are in your room;
• Know the procedure for contacting hotel staff in emergency.
SENE SECURITY MEASURES.
Through monitoring of public news reports and the alerts provided by the Tanzania National Park Authority and the Tanzania Tourist Board, SENE is aware of isolated incidents against tourists when and where they do occur. Using such information, SENE regularly assesses the security situation and revises itineraries if we determine that the existing program would put our guests at risk.
SENE mountain guides and safari drivers all carry radios or phones so they can be in contact with our main office in Moshi. When on safari our drivers travel only the main roads from Moshi to Arusha and the main roads into the safari parks. We travel only during daylight hours, except for the heavily trafficked road between Kilimanjaro International Airport and Moshi and Arusha Towns in the case of guests arriving on flights after sunset. We set up our overnight camps on Kilimanjaro and on safari only in official camp sites established by the Tanzania National Park Authority or at private, secure tourist camps.