On Zanzibar the superbly situated accommodations are directly on the beach or in the old Stone Town. We recommend spending some time at both.

On the beach, Exclusive Resorts are those that feature more luxuriousness, more seclusion, a lighter environmental footprint, or some combination. The Boutique Bungalows are generally smaller lodges well-integrated into their surroundings and more serene than either the budget hotels or the outsized tourist resorts.  All beach accommodations include fine dining on site, swimming pools, and a range of watersports; some have spas and gift shops as well.

Staying a night or two in a Stone Town Hotel transports you back in time to deeply experience this magical place.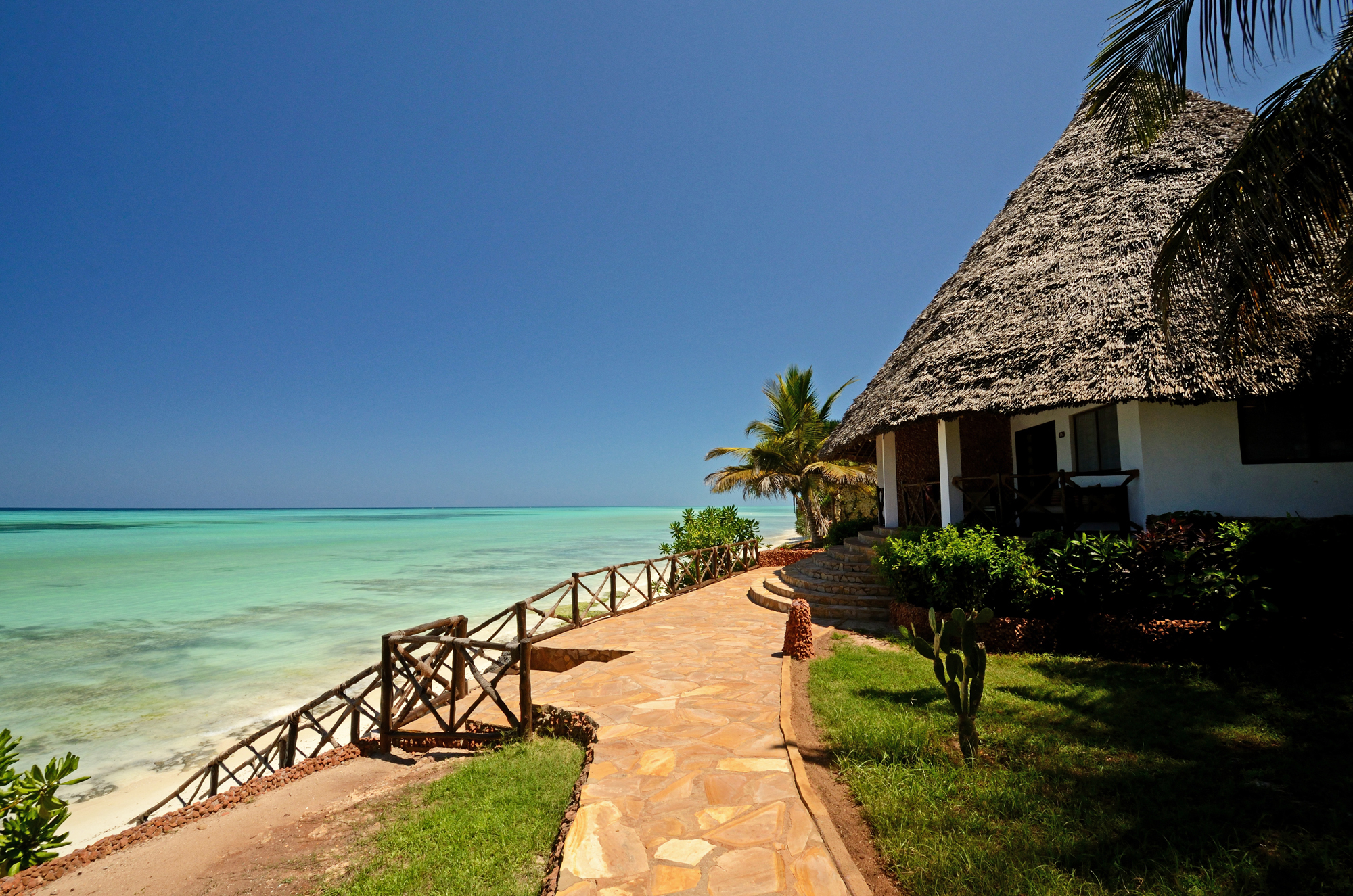 Exclusive Resorts
These resorts provide more serenity and more distance between you and other sun-seekers. Some offer pampered luxury, others offer quiet solitude for a true getaway, and some minimize their ecological footprint by treading lightly and avoiding crowds.
• Located on small outer islands or quieter parts of Zanzibar
• Distinctive and unique accommodations
• Personal attention
• "Get away from it all"
Perched on an outcrop overlooking a coral-fringed lagoon on Zanzibar's peaceful northeast coast, Asilia's three Matemwe properties – the Lodge, the Retreat, and the Beach House offer gradations of secluded luxury.  Choose between one of the 12 chalets, 4 villas, or the singular 3-room residence for your place in paradise.
On tiny Chumbe Island, off the west coast of Zanzibar, guests stay in one of 7 eco-bungalows that blend into the forest with palm-thatched roofs, an open layout with bedroom on the upper level and sitting area below, local hand-made furniture, colorful fabrics, and a swinging hammock sofa. Relax on the beach, snorkel, and take guided walks through the forest trails and inter-tidal area.
Mafia Island, reachable by short flight from Dar es Salaam, is a laid back alternative to Zanzibar and Simon Mtuy's favorite getaway with endless beaches, excellent snorkeling and diving, and easy interaction with the locals. Unpretentious Chole Mjini resort consists of 7 unique and lovingly built tree houses, each open to nature but with full amenities and exquisite comfort.
Elevated and crafted along an idyllic beach on Pemba Island, The Manta Resort offers privacy, romance, adventure, and a variety of water sports on its remote island sanctuary. Spend a night (or more!) in the resort's floating underwater room, set in the reef 250 meters offshore, for a once-in-a-lifetime experience.
Boutique Bungalows
The beach is all about lounging barefoot with the surf tickling your toes, the enveloping warmth of the sun, and timeless evenings of cool ocean breezes wafting through your beach-side bungalow. You've found your piece of paradise!
• Comfort, serenity, relaxation
• Everything you need in a beach holiday!
• Easy access from the Zanzibar airport
• Unhurried pace
Shooting Star Lodge is a relaxed and intimate hotel nestled on a headland with panoramic views across the Indian Ocean. Accommodations are in sea view cottages with verandas overlooking the beach, economical lodge rooms with terraces opening onto the garden, or the exclusive and spacious Monsoon Villas with private plunge pools set amidst tropical gardens.
On a protected bay on Zanzibar's quiet northeast coast an intimate island experience awaits at Pongwe Beach Hotel. Pongwe's 16 thatch roof cottages are set in a manicured garden fronting their "pool with a view" and a long white sandy beach protected by an offshore reef, where the warm clear Indian Ocean is ideal for swimming.
As a refuge of solace, where you can just relax and enjoy the slow pace of Zanzibari life, Zanzibar Retreat Hotel lives up to its name. Its white coral beach, fine as powder, is ideal for long walks and swimming when the tide is high (swimming is also available at the pool, just steps from the beach).  The intimate hotel has just twelve rooms, including executive sea view rooms with their own private balconies overlooking the ocean.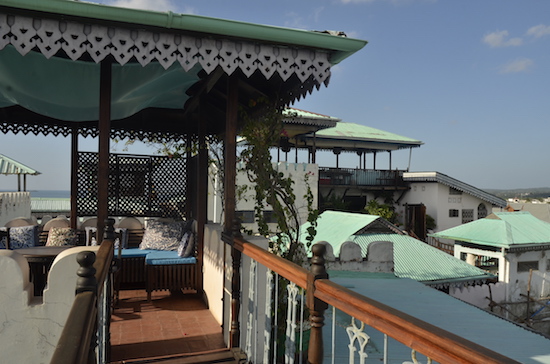 Stone Town Hotels
Stone Town is a labyrinth of narrow streets and alleys that has remained largely unchanged for centuries. These distinctive hotels fashioned from former palaces deep in the heart of town reflect a bygone era while including contemporary comforts.
• Artists' studios, shopping, roof-top dining
• Staying on-site enables deeper exploration
• Tourist-friendly and authentic
• Complement your beach time
Built in 1885 in the authentic Arabic style by the Wazir to Sultan Said Bargash, now exquisitely transformed with harmonious interiors, antique furniture, traditional lavish Zanzibar four-poster beds, rare lamps, and rich fabrics, the Zanzibar Coffee House Hotel offers a touch of magic and romance in the heart of Stone Town. Start the day in the tower-top teahouse with fresh locally-grown coffee and home-baked goods from the hotel's cafe.
Zanzibar Palace Hotel is a nine-room boutique hotel centrally located in Stone Town.  Guest rooms wrap around a central atrium.  Each unique room integrates design elements from the island's Arabian, Indian, and English influences, providing a traditional feel using many local antique pieces, magical beds, Persian rugs, and colorful silks. Facilities include the Sukinah Lounge, Palace Restaurant, and Zanzibar Palace Luxury Spa.
In the heart of Stone Town is a beautifully restored palace, once the home of one of the richest men in the Swahili Empire. Emerson on Hurumzi recreates the wondrous atmosphere and grandeur of the past with spacious airy rooms, original stucco decor, ornately carved doors, antique furnishings, ceiling fans, and unique stone baths, along with modern comforts of today. The rooftop dining area is perched high among the minarets, temple towers, and church spires of Stone Town.