Safari overnights in Tanzania can be in permanent lodges in tourist or luxury class; tented camps with spacious walk-in canvas tents, full beds, and en suite bath facilities; or standard camping for the cost-conscious.  See a selection of examples below.
We custom-design a selection of accommodations according to your preferred style and budget. Lodges and tented camps can be combined to maximize your experience; standard camping safaris generally camp throughout.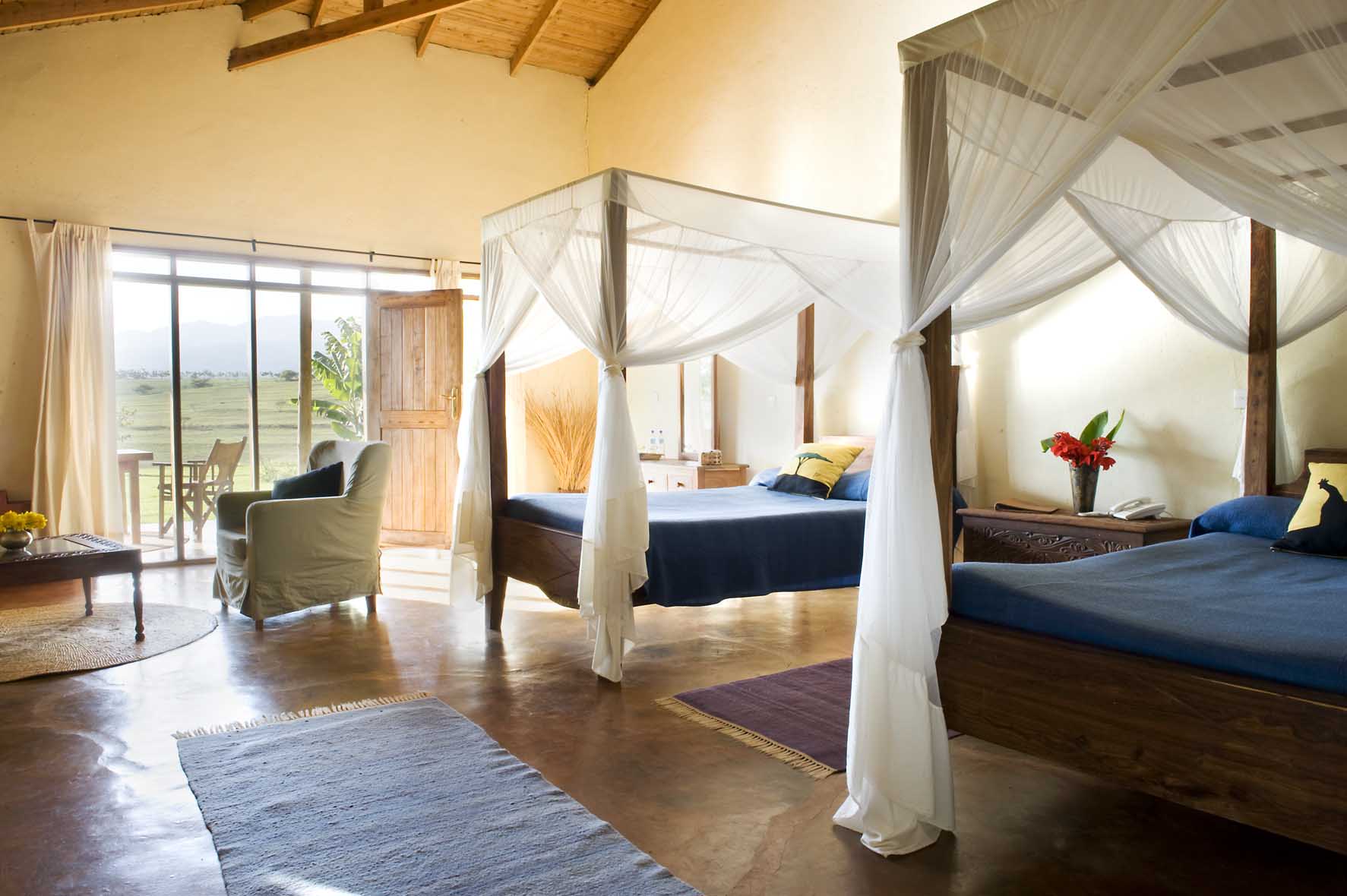 Lodges
Tanzania's world-class lodges feature spacious rooms or cottages with four solid walls, fine dining, a range of amenities (swimming pools, spas, gift shops, lounges) and spectacular views.
• Full amenities
• Spacious rooms with hotel comforts
• A solid wall between you and the African wilderness
Located on the remote eastern rim of the Ngorongoro Crater more than a half kilometer above the crater floor.  Large lodge with 98 rooms, spacious reception, lounge, and dining room, and "pool with a view" overlooking the crater.  All rooms face toward the setting sun beyond the western rim.
In the Ngorongoro Highlands area, just outside the Conservation Area, this 30 room lodge sits within a 500 acre coffee farm.  Views from the huge rooms and the main house, where meals are served, are over the Great Rift Valley and Oldeani Volcano.  Quality and amenities in all ways equivalent to Sopa, but being off the rim, Farm House Valley offers significantly lower prices.
Lodge comprises a main dining and lounge area with a fire pit overlooking Lake Ndutu, and 34 stone duplex cottages. Set in an acacia woodland in the southern Serengeti but located within the boundaries of the Ngorongoro Conservation Area. Lodge is in high demand during the months of December through March when the million-strong wildebeest migration concentrates in the area for the annual calving in February.  Rooms are small; no swimming pool.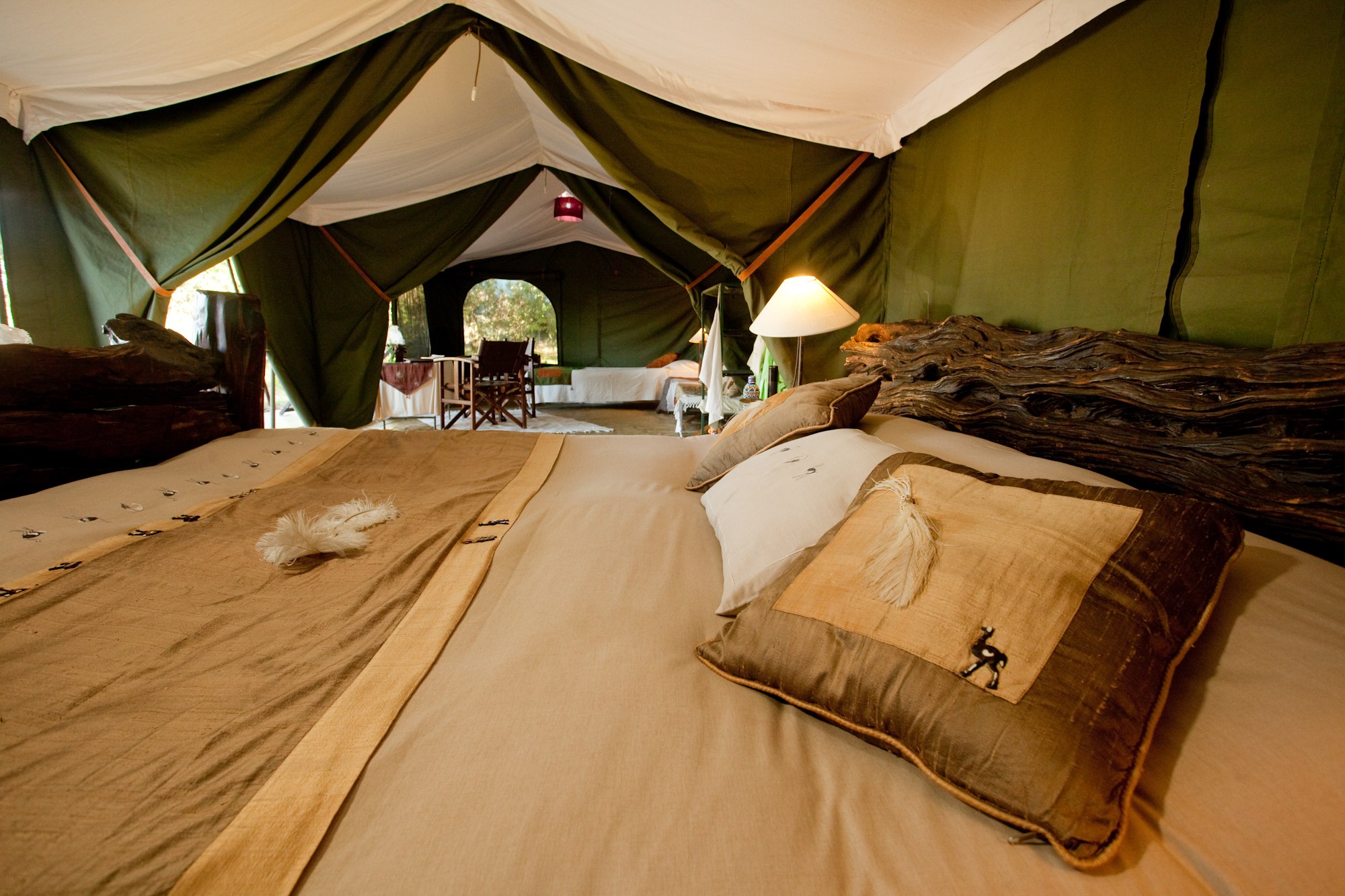 Tented camps
Tented camps offer the classic safari experience combining comfort and intimacy in the African wilderness with large walk-in canvas tents with full beds and private bathrooms.
• Intense wilderness feel in comfort
• Classic "Hemingway" safari style
• Variety of options from light footprint tents to permanent tents built on platforms
Mobile style tented camp in the central Serengeti with easy access to all sections of the park. Ten tents with solar power, hot showers on request in your en suite private bathroom, full beds, and small outdoor seating area. Shared facilities include a cozy dining tent and lounge, and evening campfire for sundowners and conversation.
Combines elements of a tented camp and safari lodge with 35 permanent tents and 5 bungalows strung out on a bluff overlooking the Tarangire River, a dry season water source for elephant, buffalo, and other wildlife. There is a main lodge building with a dining room, full bar, large patio, swimming pool, and gift shop.
Small, luxurious permanent tented camp in an acacia forest on the remote northeastern side of the Ngorongoro Crater rim. With only eight guest tents, a lounge and a dining tent, this camp has an intimate atmosphere.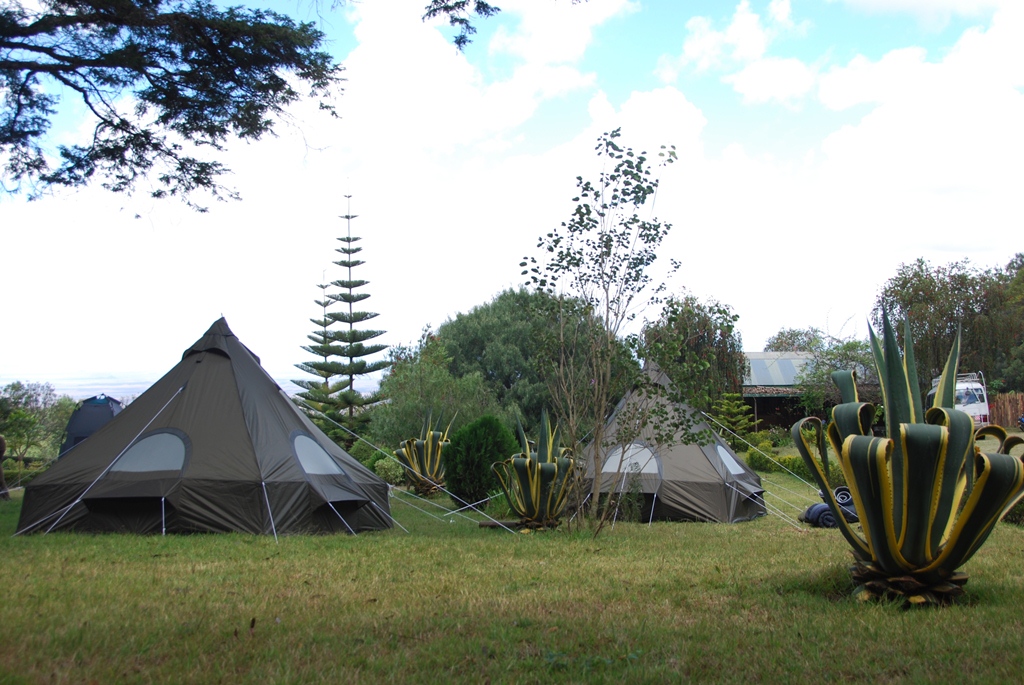 Standard camping
Car camping in public campsites with delicious meals prepared by SENE safari chefs.  Spacious sleeping tents, pads and pillows ensure that you enjoy a comfortable camping experience.
• Adventurous connection with nature
• Self-sufficient with SENE cook preparing all meals
• Modestly priced
Group camping spots take in a variety of locations and facilities.
Unfenced public campsites with water, toilets, and showers are found within Tarangire, Lake Manyara, Serengeti, Arusha and Mkomazi National Parks, and near Lake Eyasi and Lake Natron.  These camps provide a true wilderness experience.
Simba Camp on the Ngorongoro Crater Rim offers magnificent views and easy access into the crater. It is situated at over 7,800'/2400m and can be very chilly at night in June and July.
Private campsites with hot showers, swimming pools, and bars are found outside Lake Manyara and Arusha National Parks and the Ngorongoro Conservation Area.  These are not wilderness camping, but make up for that with their amenities.