Guided bush walk
Bush walking is the classic mode of locomotion on safari, allowing you to discover animal tracks, scat, plants, insects, birds, and smaller species otherwise missed from a vehicle.  It is also likely that you will see larger fauna of the bush, so an armed ranger accompanies all walks.  Don't miss experiencing the safari environment up close!  Available within the Ngorongoro Conservation Area near Lake Ndutu, in Tarangire National Park from the Tarangire Safari Lodge and Oliver's Camp, in Arusha National Park, in the Serengeti from luxury camps in the northern reaches of the park, and in a number of Remote Safari Destinations.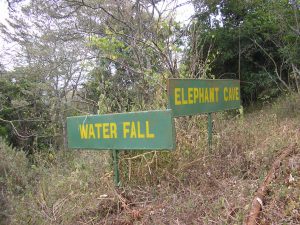 elephant caves hike
A guided two hour light hike through the forested highlands inside the Ngorongoro Conservation Area to a series of elephant caves.  So-called because the deep recesses in the valley wall are created by elephants digging up the earth to ingest the mineral-rich soil. This soil also attracts buffalo, baboon, bushbuck and waterbuck to the area.  En route you can visit a majestic 150-meter waterfall.
Olmoti Crater Hike
North of the Ngorongoro Crater, past the Maasai villages of Irkeepusi and Nanokanoka and far from other tourists, sits Olmoti Crater.  Olmoti is shallow and grass-filled, perfect for Maasai cattle and antelope, with a beautiful waterfall where the Munge River escapes on its journey south.  The 2-3 hour ranger-guided hike follows an ancient Maasai cattle trail through grassland, rocky outcrops, and a mountain forest to a stunning overlook, from which you can descend to see the waterfall.
EmpakAai Crater Hike
Empakaai is an hour's drive beyond Olmoti, reachable by passing through the Bulbul Depression.  Empakaai Crater is partly filled with a soda lake, often brimming with flamingos.  The rim is heavily forested and buffalo, monkey, and antelope are likely seen there or on the crater floor, as well as a variety of bird life.  The round-trip ranger-guided walk into the crater takes 3 hours.  Empakaai offers an enchanting escape far away from the more heavily touristed destinations of the Conservation Area.
Ol Doinyo Lengai climb



Guarding Lake Natron to the southeast is Africa's only active volcano, Ol Doinyo Lengai (Mountain of God in the Maasai language). Climbing Ol Doinyo Lengai is an unforgettable experience and requires no special equipment or skills. The challenging 12 hour round-trip nighttime climb through spiky vegetation is rewarded at the summit with spectacular bubbling magma flows and amazing morning vistas.
Manyara Treetops Walkway
The Manyara Treetops Walkway takes you on a sky-high adventure through the beautiful forest within Lake Manyara National Park. It is an excellent way to experience this groundwater forest ecosystem from a unique birds-eye view. The 370m air walk starts with a short board-walk that gradually rises from ground level up through the canopy of the forest. You walk over a series of suspension bridges with thick netting on the sides, and reach a height of 18m off the ground. Each of the bridges ends at a viewing deck situated around a tree. These treetop platforms are perfect places to stop and enjoy life in the canopy amongst butterflies, monkeys and birds. During this walk guides will point out interesting facts about the Manyara flora and fauna, while you can enjoy a unique birds-eye view of the world around you.
Other Treks



For avid hikers, there are a myriad of options throughout northern Tanzania for treks lasting from one hour to several days.  The Ngorongoro Conservation Area itself has multiple designated trails, and we at SENE offer a multi-day trek that includes both Olmoti and Empakaai Craters.  We also offer day hikes from our Mbahe Farm Cottages and treks up to 6 days through the farms and villages nestled on the lower slopes of Kilimanjaro.  See SENE Kilimanjaro Foothills Walks.  Simon Mtuy and our team know many more routes to secret places we would love to show you – just ask!